---
Welcome to my Visual Basic Certification Page
---
Yes, I am a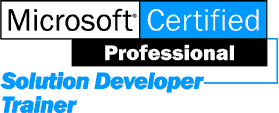 ---
What's New

05/16/00 - Check this link for an MCP-MCSD-MCT Salary Survey
03/28/00 - Corrected some Internet Explorer Display problems
03/27/00 - Redesigned the Certification Page
---
Is Certification for you?
Passing one or more of the Microsoft Certification Tests in Visual Basic 5 or Visual Basic 6 is the ultimate acknowledgment of your mastery of Visual Basic.
Becoming certified can provide you with a measure of your VB skills, and can also enable you to get a VB job or give you more opportunities if you already have one.
---
Are there separate tests for VB5 and VB6?
Yes, there are.

For VB5, there is a single test, 70-165.

for VB6, there are two tests, 70-176 (VB6 Desktop) and 70-175 (VB6 Distributed)
---
What do I "become" if I pass one of these tests?
Passing any one of these tests earns you the distinction of a Microsoft Certified Professional MCP
---
Is an MCP the same thing as an MCSD?
You can earn an MCP status by passing just a single Microsoft Certification Test. To become an MCSD , you need to pass four tests.

If you wish to follow a VB track, you can take the following four tests to earn your MCSD. The order presented here is my recommendation.